Neat Immigration
Learn more about us!
Welcome to NEAT Immigration Consultancy Services, your immediate and trusted source for accurate, up-to-date immigration advice and your trust-worthy representative for all your Immigration cases!
NEAT Immigration Services is a fully licensed Canadian Incorporation. Having a licensed Canadian Immigration Consultant on your side who can guide you through the maze of programs and procedures, prepare your applications, answer all of your questions, and lead you to Canadian citizenship and immigration can be an invaluable asset for you.
Applying for immigration to another country is not an easy task. In fact, studies have shown that immigrating is among the most stressful and costly processes a person will make in their lifetime. While it's possible to "do it yourself," consider that there are literally hundreds of options for Canadian immigration, and determining which one is right for you is only the first step in the process. You must then prepare your application forms, get your documents in order, apply for your police clearances, obtain your medical examinations, and determine which visa office to apply to. On top of that, you will often have to communicate with Canadian visa officers who understand the rules much better than you do.
Whether you are a student looking to apply to university in Canada and require a study permit, an investor looking to obtain a second passport through investment, or a family looking to start a new life in a new country, Neat Immigration Consultancy Services is here to assist you from start to finish, whatever your immigration plans may be.
We have the knowledge to guide you through the entire process. Our expertise extends to Student Visas, Work Permits, Permanent Residency Applications, Canada Investor Immigration, Canada Business and Entrepreneur Immigration programs, as well as the many Provincial Nominee Programs (PNP) that are available.
If you would like to know if you are eligible to apply for immigration to Canada, you may complete one of our Free Online Assessment Questionnaires.
If you would like to discuss your case in more detail, please feel free to Contact us for consultation.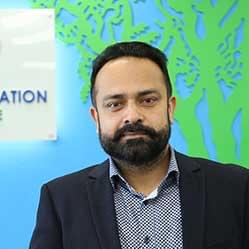 Parvinder Singh
NEAT Immigration Consultancy Services is headed by Mr. Parvinder Singh (MTech, BTech, RCIC), a Regulated Canadian Immigration Consultant (RCIC).
As a regulated immigration consultant, Mr. Singh is authorized to represent his clients in all immigration matters before the Department of Immigration, Refugees and Citizenship Canada (IRCC), the Canada Border Services Agency (CBSA), the Immigration & Refugee Board (IRB), as well as the Employment and Social Development Canada (ESDC).
Mr. Parvinder Singh specializes in all types of immigration cases, including applications for permanent residence such as Family Sponsorships, Skilled Workers, Canadian Experience Class, and Humanitarian cases; applications for temporary residence including Work Permits, Student Visas, and Visitor Visas; as well as Permanent Resident Card renewals and Citizenship applications. Mr. Singh's office also provides the Canadian immigration appeal services at the Immigration Appeal Division.
Parvinder Singh holds a one year immigration consultant diploma certificate from Ashton College in Vancouver. He is certified as a RCIC (Regulated Canadian Immigration Consultant) and is a member in good standing of the ICCRC, which is recognition of his status in this field. As a licensed immigration consultant, he is authorized by the Canadian government to represent clients in all types of immigration matters. Mr. Singh has the expertise needed to successfully guide his clients through the complicated Canadian immigration system.